Well, instead we built a Time Machine out of our admin­is­tra­tion pan­el, but, the idea remains the same: let's go back to the Future!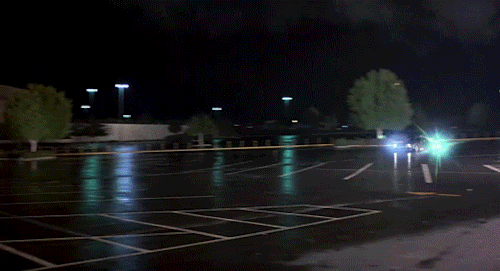 ---
Rolling Backups
You should­n't have to wor­ry about your data, even in your pro­duc­tion envi­ron­ment. That's why we han­dle it for you for a long time. You've got back­ups for a rolling 30-day peri­od. Each back­up is a dai­ly snap­shot of your user­space, including:
all the files in your home fold­er, includ­ing your dot­files, your caches, and every­thing you put in this userspace,
all your e‑mail box­es, per domain then per account, in Maildir for­mat, as well as your Sieve filters,
The back­ups are at anoth­er, ded­i­cat­ed, data cen­ter, away from our pro­duc­tion sites. You can eas­i­ly access your snap­shots at any time from your user­space. Go to the ~/admin/backup fold­er to get access to them mount­ed in your filesystem.

1

2

3

4

5

6

7

8

9

10

11

12

13

14

15

16

17

18

19

20

21

22

23

24

25

26

27

28

We mount the snap­shots in a read-only mode in your user­space but show the backed-up files with their ini­tial the per­mis­sions. So, you're safe and can­not alter your backed-up data. However, you're free to parse them.
Bring the Past back in the Future
The old-fashion way
So far, the only way to restore your data was to find the orig­i­nal file to retrieve in your back­up direc­to­ry, then copy it to your home fold­er. A good way to improve this is to use the rsync tool if you want to bring an entire fold­er back:

$

rsync

-

a

--

progress

~

/

admin

/

backup

/

[

target

-

date

]

/

files

/

[

target

-

path

-

w

/

o

-

trailing

-

slash

]

~

/

For data­bas­es, you still can rely on data­bas­es utils, like mysql or pg to inject the dumped data into your database :

$

zcat

~

/

admin

/

backup

/

[

target

-

date

]

/

mysql

/

[

dbname

]

.

sql

.

gz

|

mysql

-

u

[

account

]

-

p

[

password

]

-

h

mysql

-

[

account

]

.

alwaysdata

.

net

[

dbname

]

What about e‑mail box­es then? Well, if you've ever tried to han­dle the Maildir sub­sys­tem, you already know what I mean! grep is your best friend to find the e‑mails you want to retrieve.
The DeLorean
Sure this work­flow may be an effec­tive one, but we all know it's not that user-friend­ly, that's why we made our DeLorean!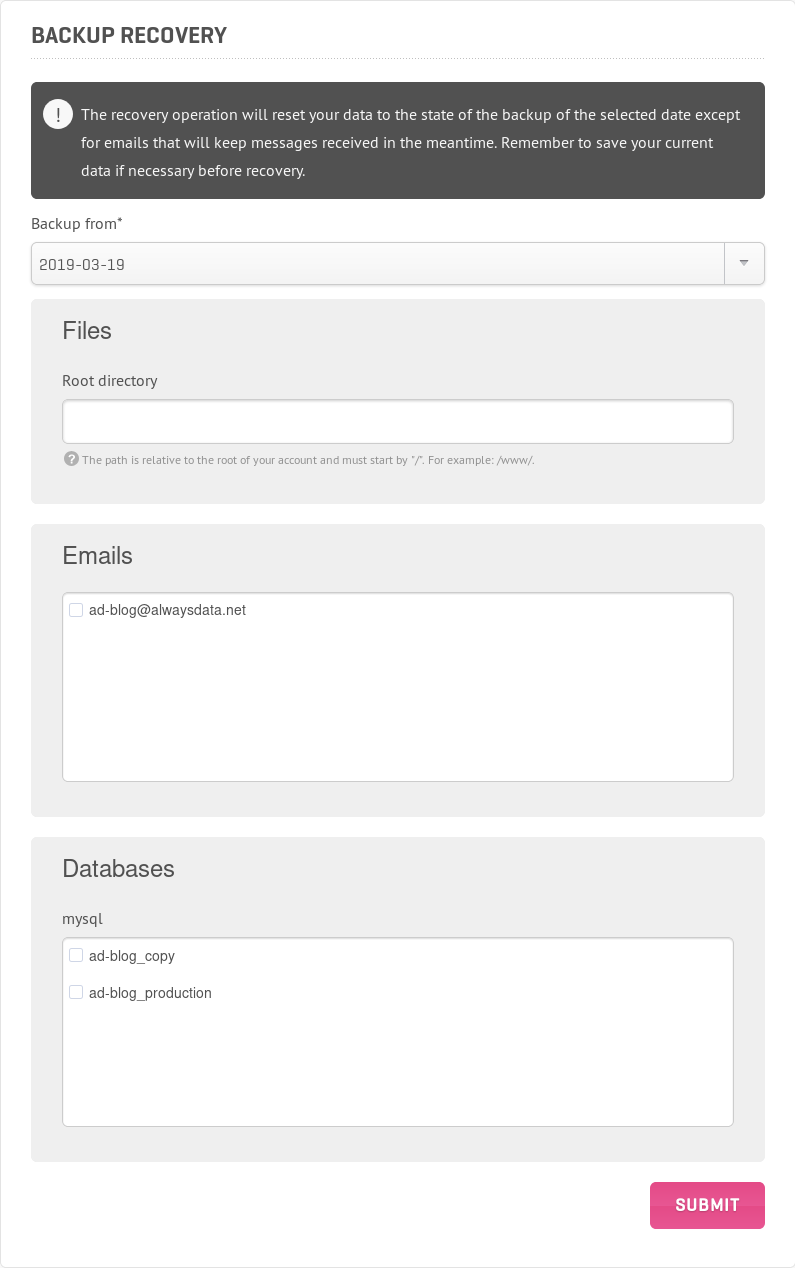 You can now restore your files direct­ly from your admin­is­tra­tion pan­el. Go to the Advanced > Backup recov­ery sec­tion. Pick a tar­get date, then select the con­tent you wish to restore:
for files, fill the field with the path to the desired file/folder1), rel­a­tive to your home (e.g. /[target-dir]/),
for data­bas­es, check the ones you want,
for e‑mails mail­box­es, check the want­ed accounts.
Then sub­mit the form, and it works! It's way simpler.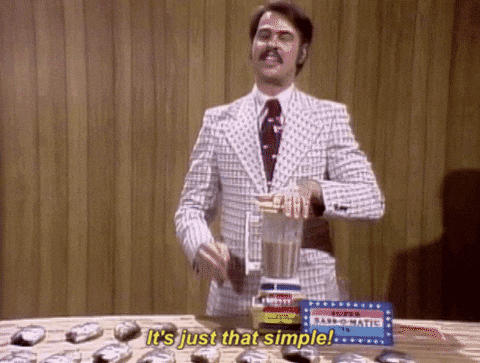 Remember the process over­writes the cur­rent files and data­bas­es. So keep a copy before trig­ger­ing the process if you want to keep your cur­rent ver­sion. For e‑mails, the tool only restores old e‑mails but does not delete the ones received since the tar­get date. Your cur­rent e‑mails remain untouched.
---
We expect this new util­i­ty will help you be more con­fi­dent about your process­es. For us, it's always right to give you friend­ly solu­tions for deal­ing with your envi­ron­ment, regard­less of your tech­ni­cal lev­el. The com­plex­i­ty is ours, so let's stay focused on your good work!