In 2013, we decid­ed to stop con­tract­ing out our phys­i­cal infra­struc­ture. With the ben­e­fit of hind­sight, we want­ed to share our expe­ri­ence with you.
First and foremost, high quality, all-inclusive/user-friendly
If you are an always­da­ta cus­tomer, then you are already famil­iar with the cock­pit! If you aren't, then take five min­utes to try our free 100MB shared host­ing plan and explore our ser­vices and interface.
We see our man­age­ment inter­face as a cock­pit. We designed it so that you are able to admin­is­ter every­thing in one place: domains, web­sites, data­bas­es, dis­tant access, con­fig­u­ra­tions — every­thing is there. You can also con­tact us direct­ly from the cock­pit via our tick­et­ing sys­tem. And it has a lot more features!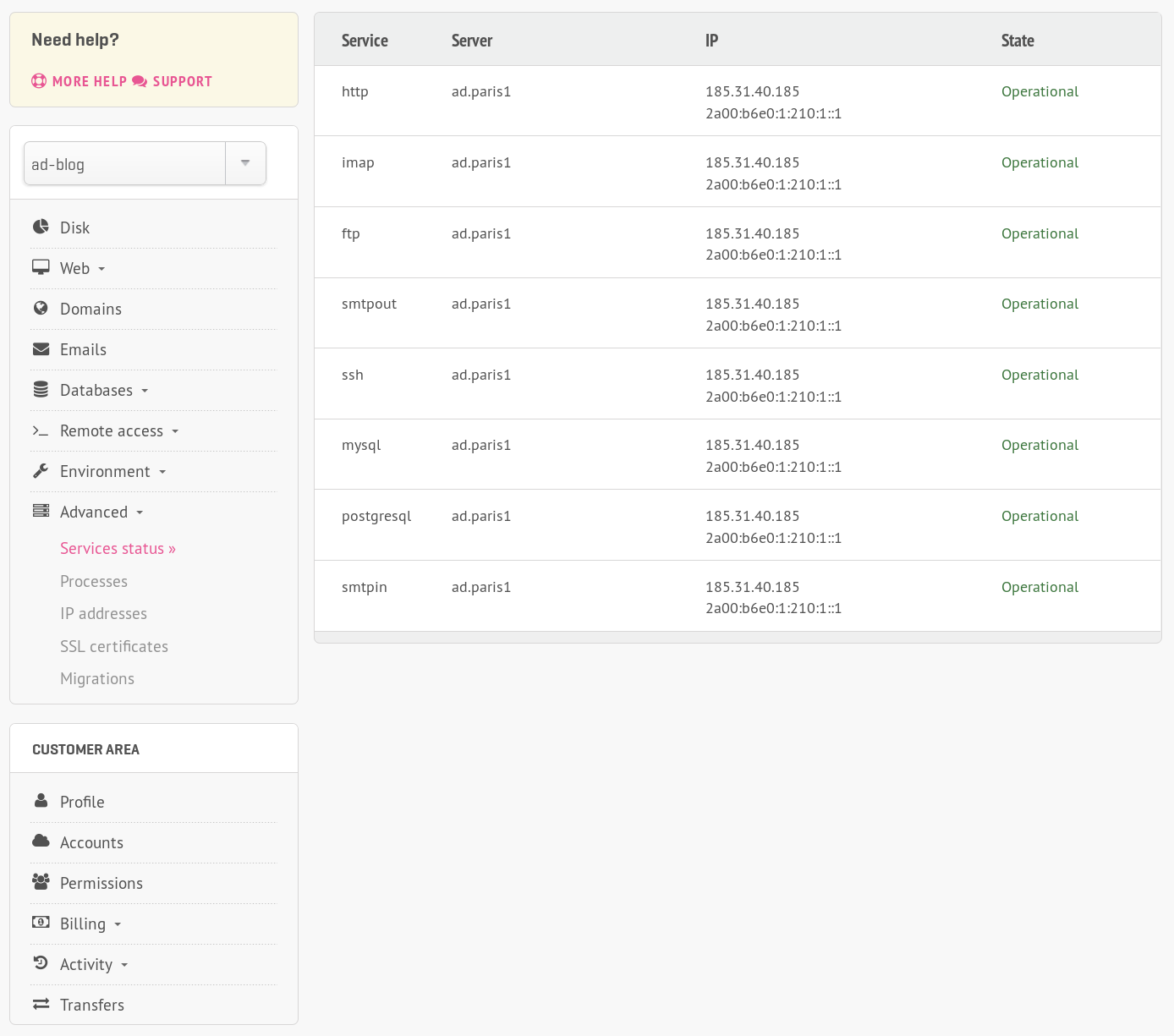 In 2006, no host­ing offer fit our needs. This is why we built one and devel­oped our own tools inter­nal­ly. Ten years lat­er, we regret noth­ing. Our cus­tomers have access to the most flex­i­ble and user-friend­ly ser­vice on the mar­ket. These are two of our main strengths.
We host every­thing, but the core of our busi­ness is offer­ing man­aged ser­vices. When you open an account at always­da­ta, you have access to a wide range of ser­vices: inter­preters, data­bas­es, bro­kers, e‑mails, back­ups, etc. And you have noth­ing to wor­ry about. Everything is man­aged, safe, and kept up-to-date.
Nevertheless, one can only do so much work. Developing a soft­ware struc­ture and get­ting a phys­i­cal infra­struc­ture that fit our ambi­tions was too great of a chal­lenge at the time. We had to choose, and we chose soft­ware, leav­ing the phys­i­cal infra­struc­ture man­age­ment to trust­ed third parties.
Or so we thought. For the first few years, we relied on the OVH infra­struc­ture, using extra servers at Amazon EC2, Hertzner, and Online. This archi­tec­ture allowed us to focus on devel­op­ing our project: man­age­ment inter­face, mon­i­tor­ing, sup­port, alproxy, account man­age­ment, and more.
Then, four years ago, we became fed up by the poor qual­i­ty of our sub­con­trac­tors. We had come a long way, but the sub­con­trac­tors had seri­ous­ly impact­ed our cus­tomers' expe­ri­ences. It was then that we decid­ed to become our own hard­ware and net­work operator.
No compromises
We stopped sub­con­tract­ing because they pro­vid­ed you with sub­stan­dard expe­ri­ences. Our phys­i­cal infra­struc­ture ser­vice had to fit our ambi­tion to pro­vide you with the best services.
The first servers
It start­ed with a few machines. We chose, con­fig­ured, and installed them, but, of course, this was­n't easy. We had to learn the host­ing busi­ness in depth. But we began to see results: no glob­al break­down, ever1).
During this process, we've stood by our principles:
Neutrality, always. From the data cen­ters han­dled by Equinix, a neu­tral oper­a­tor, to the net­work oper­a­tors IELO-LIAZO, Nerim, Cogent, and Interoute, we guar­an­tee the inde­pen­dence of your data, traf­fic, and oper­a­tions. We are a mem­ber of RIPE, which ensures that you are inde­pen­dent as an oper­a­tor on our IP range.
Quality, always. We use high-end servers that are equipped with data cen­ters that were labeled SSDs in pro­duc­tion. They all have dual-pow­er blocks on sep­a­rate elec­tri­cal cir­cuits and dual-net­work inter­faces that are con­nect­ed to switch­es from dif­fer­ent brands. Our years with sub­con­tract­ing have taught us that the details mat­ter2). This was the right choice! No major break­downs dur­ing all these years is a great achievement.
Redundancy: at any cost?
We often are asked about data redun­dan­cy at always­da­ta. Back in the day, we dupli­cat­ed data on two dis­tinct infra­struc­tures. However, this method was extreme­ly cost­ly to main­tain, and the mas­sive unavail­abil­i­ty of the first point could not jus­ti­fy the asso­ci­at­ed costs. We talked about this deci­sion[fr] back in 2012.
Our goal is not a zero Recovery Time Objective (RTO). We tried real-time redun­dan­cy, and it actu­al­ly decreased our qual­i­ty of ser­vice by intro­duc­ing bugs and mak­ing the whole sys­tem unsta­ble. Our avail­abil­i­ty rate is excel­lent, with only a neg­li­gi­ble inci­dence of break­down. Such a com­plex and risky archi­tec­ture is not jus­ti­fi­able giv­en our successes.
What mat­ters to us is the Recovery Point Objective (RPO). We ensure that our back­ups are easy to recov­er and are not cor­rupt­ed. Local data are mir­rored (RAID1) on every serv­er. In case of emer­gency, we have the abil­i­ty move data from an unavail­able serv­er to a spare one in the same bay, guar­an­tee­ing a func­tion­ing sys­tem in few­er than 30 min­utes. This solu­tion gives us the flex­i­bil­i­ty to recov­er the orig­i­nal serv­er in a calm and unhur­ried manner.
This is not real-time redun­dan­cy, but you will have the insur­ance of con­ti­nu­ity of ser­vice 3) in case of any incident.
Backups
Your data con­ti­nu­ity mat­ters. We ensure 30 last-day back­ups in a sec­ond data cen­ter oper­at­ed by Online and on our own servers. Ensuring qual­i­ty is our main goal. Our phys­i­cal infra­struc­ture has result­ed in few­er cor­rupt­ed disks: only two dur­ing the last four years4) com­pared to three or four per month with our last subcontractor.
Be free, for the best
Our free­dom allows us to pro­vide you with more choic­es for our serv­er con­fig­u­ra­tions. We're no longer lim­it­ed by our sub­con­trac­tors. We choose only the mate­r­i­al and sup­pli­ers that we trust. We man­age our own sup­ply chain, which allows us to pre­vent delays. Within hours, we can deploy servers on pro­duc­tion in stan­dard configurations.
As an inde­pen­dent oper­a­tor, we are freer than we were with sub­con­trac­tors. With our own IP ranges, we no longer suf­fer from the black­list­ing that impact­ed our sub­con­trac­tors. In addi­tion, we are able to do advanced fil­ter­ing on access on our side.
We final­ly have bet­ter con­trol: deploy­ing IPv6 would­n't have been pos­si­ble if we did­n't have our own infra­struc­ture. Now, we are ready to offer some­thing unique: a host­ing plat­form with soft­ware solu­tions that per­fect­ly fit your needs.
2018, an all-inclusive offer
In 2013, always­da­ta start­ed with only three devices. Now, we have near­ly fifty times that num­ber of servers and devices to pow­er your apps and web­sites. That migra­tion took some time, but we learned a lot about our skills and your needs. With our final servers final­ly run­ning on our side, we're free.
We're free to pro­vide you with a solu­tion that you're hap­py to work with. We often say that always­da­ta is con­ceived by devs, for devs. Now more than ever, that's our main incen­tive. We will con­tin­ue to offer you with more and more fea­tures on the hard­ware and soft­ware sides. This adven­ture would­n't have hap­pened with­out you. Thank you for your con­fi­dence in our abil­i­ty to change the host­ing world.
---
We at always­da­ta will nev­er run out of ideas about new fea­tures. Let's play in the com­ments: which tech­nolo­gies — unlike­ly or wacky, hard­ware or soft­ware — can you imag­ine com­ing in the always­da­ta platform?
Notes

↑

1
unless you count this Sunday at 1 a.m., which last­ed for few­er than five minutes

↑

2
a break­down due to some­thing as basic as over­heat­ing was sim­ply not an option

↑

3
if you need more, stay tuned! A gold offer will be intro­duced soon, fea­tur­ing all the high avail­abil­i­ty options you could pos­si­bly need and a phys­i­cal redun­dan­cy in anoth­er data cen­ter. You will have prac­ti­cal­ly a 99.95% avail­abil­i­ty rate

↑

4
and only in the last month with two new disks, which were prob­a­bly because they come from a bad batch