We often get legit­i­mate ques­tions from peo­ple who don't know the always­da­ta solu­tion in-depth. Among those, a recur­rent one is about our pric­ing, which is often due to users not under­stand­ing our offer­ings. We're aware that this hap­pens because what we do isn't typ­i­cal for hosts. So1), let's take a look at what we're doing here.
What's the Cloud (computing)?
In data cen­ters, you will find servers2), net­work sys­tems, and cables (a lot!) to plug them togeth­er. They may also have stor­age sys­tems like SANs devices and oth­er var­i­ous kinds of devices. Data cen­ters are not just iden­ti­cal machines ad infini­tum.
When you access a remote ser­vice like a web­site, an API, your e‑mail, or any oth­er net­work-based solu­tion, you reach one of those servers. Request go through routers, switch­es, and cables3). The serv­er han­dles your request, process­es the data, maybe by pulling it from a remote stor­age sys­tem or a dis­tant data­base, and returns its response.
In order to host that kind of solu­tion4), you have to push your code to one of those servers. Your app will then be avail­able online to your users.
To run your app code­base, you will need a com­plex stack of tools installed on the serv­er. Reality means that some­one needs to man­age those tools. And that's the point about what we're doing at always­da­ta: we not only rent you a machine, we also man­age it for you.
Behind the fog
As we said, in-the-cloud servers are com­put­ers. Let's have a look at what we need to run them:
TL;DR: This part is dense (like British fog). If you don't want to know every detail, I sug­gest you go to the next part. To be short: Cloud is infra­struc­ture where data cen­ters host servers, which embed all the stacks you need to pow­er your own application.
A data center
Maybe it's obvi­ous, maybe it's not, but we need a place to install, pow­er-plug, and run our servers. The data cen­ter phys­i­cal­ly hosts the machines, and sup­plies every­thing they need to run (elec­tric­i­ty, con­trolled tem­per­a­ture, secured access, etc.).
Networks
We need to con­nect the servers to the rest of the world, so a net­work infra­struc­ture is manda­to­ry. It includes routers (to con­nect to net­work providers), switch­es (to dis­trib­ute the net­work to the machines), fire­walls and anti-DDOS pro­tec­tions, sen­sors, etc.
Servers
Basically, yeah, we need sev­er­al machines in order to rent the machines. So phys­i­cal servers are avail­able, which pro­vide CPU, mem­o­ry, stor­age, pos­si­bly GPU com­put­ing, etc. They can be built by dif­fer­ent man­u­fac­tur­ers, with dif­fer­ent tech­ni­cal fea­tures (CPU mod­els or archi­tec­ture, RAM size, etc.). These machines are the raw com­put­ing pow­er of the infrastructure.
Isolation (Virtualization / Containerization5))
This is low-lev­el soft­ware exe­cut­ed in the ker­nel space or sim­i­lar that runs vir­tu­al machines or con­tain­ers6) and dis­trib­utes hard­ware resources (mem­o­ry, CPU time or pow­er, disk space, net­works, etc.). It vir­tu­al­ly iso­lates accounts on the serv­er to give the users trust­ed access to an almost-whole sys­tem, even if it's not a phys­i­cal one.
The Operating System (OS)
This is the core soft­ware of your machine. It can be GNU/Linux, BSD, Unix, Windows, or some oth­er serv­er-ori­ent­ed solu­tion. It acts as a link between the hard­ware (even if vir­tu­al­ized) and the rest of your soft­ware stack to give access to the mem­o­ry, CPU, net­work, etc. Basically, with­out it, noth­ing runs.
The Infrastructure software
Here's the point.
You need to run your code­base on your serv­er, and this code­base is depen­dent on a lot of tools and libraries. It involves data­bas­es, servers (like an HTTP serv­er), inter­preters (like Python, PHP, Node.js, etc.), maybe bro­kers, caching solu­tions, index­ers, and so on. You will also need a way to get remote access, through SSH or FTP. Maybe you'll need a ver­sion­ing sys­tem too (prob­a­bly Git or Mercurial). You will def­i­nite­ly need an e‑mail stack, not only for your own e‑mail box­es, but also to allow your app and sys­tem to send mes­sages when need­ed (e.g. in case of errors). And you will have to secure it all with fire­walls and ban sys­tems to pre­vent attacks.
It's a huge and com­plex sys­tem that needs to be main­tained, updat­ed, and mon­i­tored. It often comes with a ded­i­cat­ed inter­face to allow you to man­age its fea­tures and con­fig­u­ra­tion options.
Your hosted application
Congrats 🎉 !
You've final­ly got a serv­er up and run­ning, so you can now deploy your app/website/solution in a pro­duc­tion con­text, to serve it to your users.
That's the basics of what you can find in the Cloud. Whatever ser­vice you run online, what­ev­er provider you choose, the stack will have to be like this. This means that for any ser­vice you want to run, you have to wor­ry about this whole stack, or you have to find some part­ner to wor­ry about a part of it for you.
Infrastructure, Platform, Software (as-a-service), what's the difference?
As seen above, the tech­ni­cal stack need­ed to run your ser­vice is huge. Hard to build from scratch, hard to main­tain. So the mar­ket orga­nized itself around the required strengths to deliv­er those ser­vices. We're in the age of as-a-ser­vice solu­tions. We can find three kinds of offers which tar­get dif­fer­ent audi­ences of cus­tomers: IaaS, PaaS, and SaaS. Fortunately, they can be visu­al­ized like this: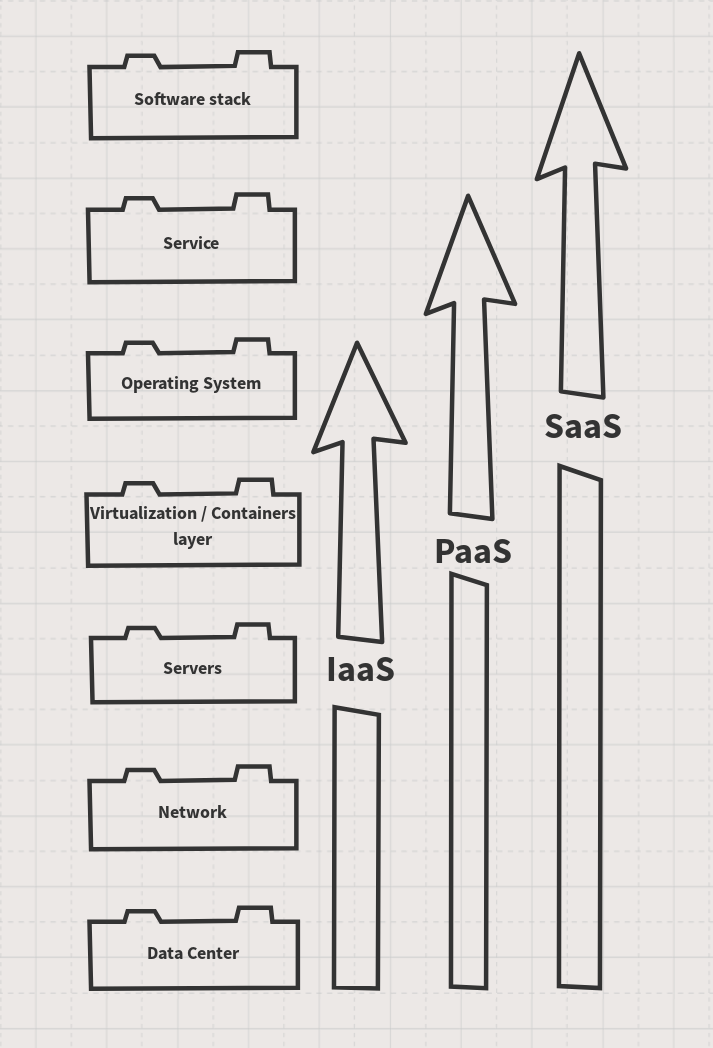 Offers labeled as-a-ser­vice have exist­ed for a while. This label is only a gift box7) that pack­ages the old well-known work­ers: sysad­mins, net­work archi­tects, secu­ri­ty experts, DevOps, etc. All of these peo­ple work in the base­ment to ensure you've got the desired qual­i­ty to pow­er your apps.
IaaS
Infrastructure-as-a-ser­vice is a ser­vice that offers the basic phys­i­cal stack. The fee you pay pro­vides access to a machine, which can be phys­i­cal or vir­tu­al­ized. Your provider takes care of the data cen­ter (its own, or a sub­con­tract­ed one), the net­work access, the phys­i­cal servers, net­work sys­tems, stor­age units, and maybe the vir­tu­al­iza­tion lay­er in case of VPS.
what you have to do: You have to man­age the OS (often pro­vid­ed in a bare ver­sion by your serv­er renter), its secu­ri­ty, the tech­ni­cal stack, libs, tools, etc. Then you will be able to deploy your app, con­fig­ure it for pro­duc­tion use, and run it.
what you need to keep in mind: man­ag­ing a whole stack is hard. You'll have to main­tain every­thing on your machines by your­self. It means pay­ing (with mon­ey or with time) for sysad­min and net­work tasks, secu­ri­ty, back­ups, recov­ery in case of emer­gency, and migra­tion. It's a crit­i­cal point and you are on your own.
Note: It's pos­si­ble that one IaaS provider can rely on anoth­er IaaS offer. This means one provider can rent a VPS host­ed on phys­i­cal servers owned by anoth­er IaaS provider. Depending on your needs and con­straints, remem­ber to check how your provider works.
PaaS
Platform-as-a-ser­vice gives you the infra­struc­ture as seen above, plus it main­tains the whole sys­tem stack: OS, inter­preters, libs, data­bas­es, secu­ri­ty, etc. It often pro­vides a way to man­age your envi­ron­ment with­out a mess, such as a CLI, con­fig files in your project, a ded­i­cat­ed ver­sioned repos­i­to­ry, or a web pan­el for GUI use.
what you have to do: You just have to deploy and con­fig­ure your app to run it.
what you need to keep in mind: Your provider will han­dle all costs of sysad­min, net­work, secu­ri­ty, back­ups, etc. It remains in your domain to deploy your app; your provider prob­a­bly won't help you with that. Also, you're respon­si­ble for the secu­ri­ty of your app itself. To keep it sim­ple: you pay the DevOps costs.
SaaS
Software-as-a-ser­vice is a more advanced solu­tion where you can use the soft­ware out-of-the-box as a cus­tomer. You won't need to deploy your own instance. This way, you can sub­scribe to the provider offer to get a full access to the solu­tion as a user. The provider can use its own infrastructure/platform, or it can rely on a sub­con­trac­tor offer for host­ing. This is the mod­el used by many tech star­tups, as they devel­op soft­wares they sell in SaaS mode and rely on hosters for infrastructure.
what you have to do: For you, as an end-user, it's total­ly transparent.
what you need to keep in mind: You can't cus­tomize the serv­er out­side of the appli­ca­tion set­tings. It a ser­vice, remote­ly avail­able, that acts like an app on your phone. You nev­er have access to the full serv­er. If you have many apps in SaaS mode, you will have huge costs (by user or by ser­vice), so using a PaaS offer to host all your apps is prob­a­bly the smarter move.
So, let's do anoth­er sketch (I like to do sketch­es) to sum­ma­rize those con­cepts. In each cloud, you'll find what roles you pay for in each offer, which also means what you can't man­age by yourself: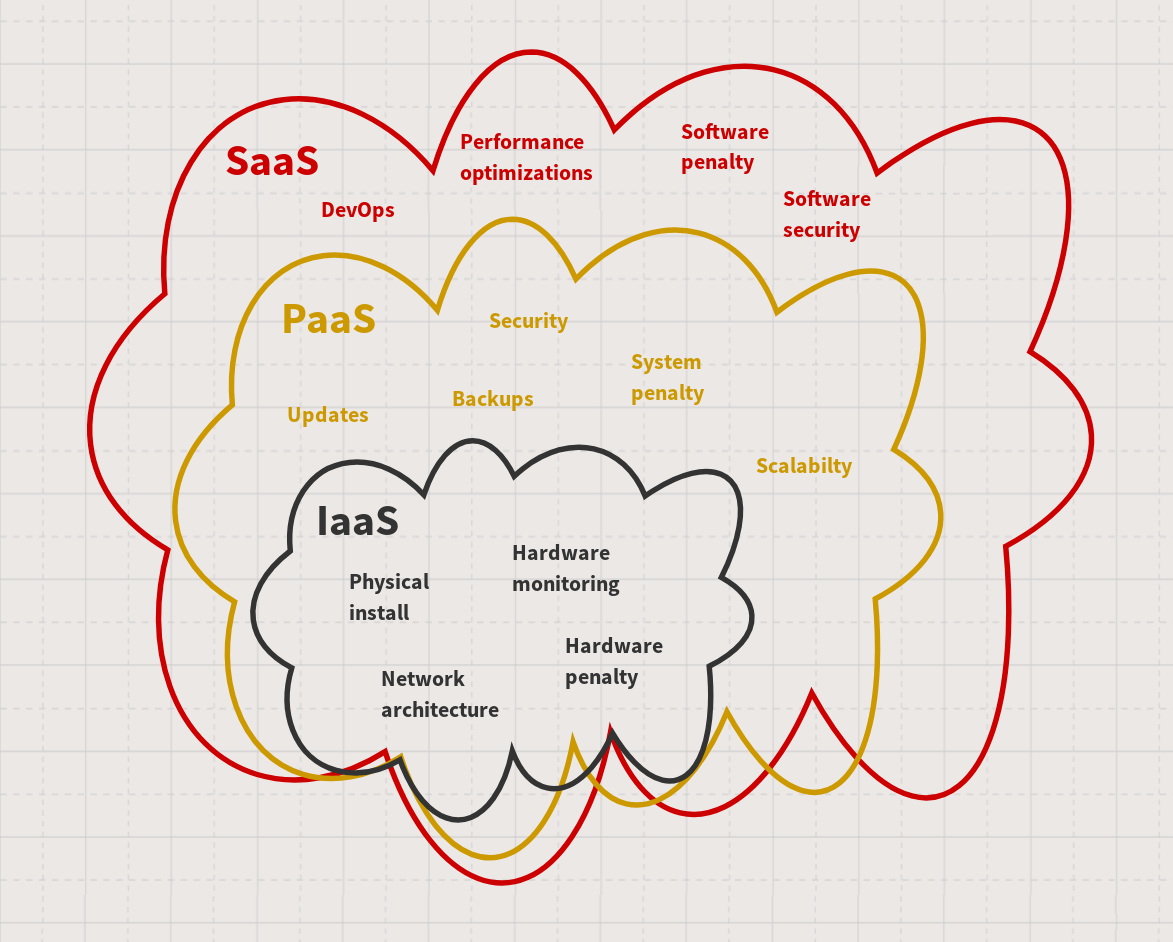 Who are you, alwaysdata?
We are a PaaS provider. We are own­er of our own phys­i­cal stack. We main­tain for you the entire sys­tem you need in order to pro­vide your solu­tion to your cus­tomers. This is true for our VPS and Dedicated servers offers, but it's also true for our Shared host­ing offer. In our mod­el, VPS and Dedicated Server use the same plat­form as Shared host­ing. The dif­fer­ence is that you're com­plete­ly alone in your serv­er instance in the for­mer two: you're the only one that con­sumes resources.
Since we start­ed always­da­ta, we have cho­sen to not just be a IaaS provider. Twelve years ago, we weren't able to find a solu­tion that gave us the flex­i­bil­i­ty we need­ed to host apps and ser­vices in a man­aged envi­ron­ment. So, we made our own and decid­ed to release it for the rest of the world. And that's the basic rea­son why we can't com­pete with oth­er IaaS solu­tions: they sim­ply don't offer the same lev­el of ser­vices, nor the same lev­el of quality.
We choose to offer a full envi­ron­ment. always­da­ta pro­vides sup­port for all avail­able inter­preters in the mar­ket, the abil­i­ty to run what­ev­er pro­grams you want in your user­space, the abil­i­ty to run ser­vices in the back­ground, many SQL and NoSQL data­bas­es, full SSH remote access, and much more! Even in the Shared Hosting envi­ron­ment, our fea­tures are far beyond those of our com­peti­tors, who often only sup­port PHP behind a sin­gle Apache instance, with a MySQL data­base and no SSH access.
Performance and secu­ri­ty are also in our DNA. We nev­er auto­mat­i­cal­ly rely on the vir­tu­al­iza­tion lay­er to do iso­la­tion, as can be seen else­where. Instead, we use the ker­nel and OS sys­tems designed to iso­late accounts. This prac­tice allows us to give you an increased lev­el of per­for­mance with no com­pro­mise on secu­ri­ty. Of course we use vir­tu­al­iza­tion in some parts of our plat­form, but we use it only when it makes sense.
---
I hope this post helps you bet­ter under­stand the key dif­fer­ences between the offers of host­ing providers. You should have a try at what a mod­ern PaaS solu­tion should always be like. Giving you the com­fi­est posi­tion to run your apps has been our goal since we started!
Notes

↑

1
hop­ing things will be more under­stand­able with the next release of our website

↑

2
which are com­put­ers gen­er­al­ly with high com­pu­ta­tion­al power

↑

3
nev­er under­es­ti­mate the cables!

↑

4
I will talk about the serv­er-less par­a­digm in a future blog post, where we will learn that a serv­er-less solu­tion gen­er­al­ly implies a serv­er any­way ¯\_(ツ)_/¯

↑

5
I also have a blog post in my todo to talk about vir­tu­al­iza­tion vs. con­tainer­iza­tion vs. isolation

↑

6
purists will prob­a­bly already put my name on their need-to-kill list when they read that, I hope you'll for­give me for this short­cut in my expla­na­tion: I try to stay con­cise, and the debate on vir­tu­al­iza­tion vs. con­tain­ers in host­ing is out of the scope of this post

↑

7
but gift box­es are cool, they're a promise of joy