Not so long ago, we updat­ed our visu­al iden­ti­ty. I would like to briefly com­ment on this evo­lu­tion, by say­ing that we received a lot of pos­i­tive and con­struc­tive feed­back which not only pleased us, but also enabled us to make a sig­nif­i­cant num­ber of improve­ments (though improve­ments are still nec­es­sary in sev­er­al areas, so keep send­ing us feed­back). Thank you for this.
Following this new lay­out, new offers were intro­duced and are vis­i­ble on our site's home­page. These are vir­tu­al servers, com­mon­ly referred to as VPS (Virtu­al Private Serv­er). The new servers will allow to address the gap that exist­ed in our range of offers until now. Indeed, even if the shared host­ing plat­form offers pack­ages at a very rea­son­able cost, it has a num­ber of lim­i­ta­tions (which are relat­ed to shar­ing), where­as our ded­i­cat­ed servers pro­vide resources whose lim­its are hard to reach but are more costly.
VPS are locat­ed — rough­ly — between the two, in terms of resources and bud­get: 1 or 2 cores, from 149 euros per month. Prices are detailed on our pric­ing page. Let's also point out that, like all our offers, man­age­ment of the serv­er is includ­ed and instal­la­tion won't be charged.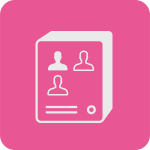 Technically, we haven't sac­ri­ficed a thing for our VPS to achieve the best pos­si­ble per­for­mances, which are very close to those of a phys­i­cal serv­er. Our VPS run on QEMU with KVM (there­fore on Linux). The dri­ves are SSD and are local (no SAN / NAS), which allows for min­i­mal laten­cy. The mem­o­ry allo­cat­ed to the VPS is always ful­ly stored in RAM (DDR4), nev­er in swap.
According to the offer, each VPS has one or two ded­i­cat­ed 3,5 GHz cores, but twice as much in burst mode. In oth­er words, on a VPS with two ded­i­cat­ed cores , the vir­tu­al machine will "see" four cores, you can be sure that two of them will be able to use 100 % no mat­ter what. The oth­er two will be usable as long as the oth­er VPS host­ed on the same phys­i­cal machine are not all con­sum­ing all their cores (which is usu­al­ly rare).
Thus, we believe that this offer enrich­es our plat­form with the things it missed to com­plete our range of prod­ucts and meet most of our clients' needs, and we remain avail­able for any addi­tion­al infor­ma­tion you may require.