It is with great joy (and some excite­ment) that the whole team from Alwaysdata wish­es you a won­der­ful and hap­py 2016. We hope this year will be full of projects of all kinds, and today we will start by giv­ing you an insight into some of these. As you have no doubt noticed, we have revamped our visu­al iden­ti­ty for the new year.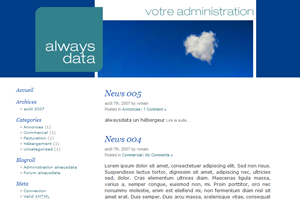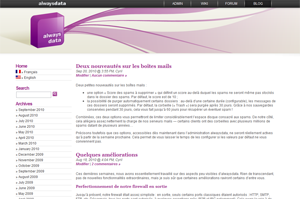 Our host­ing ser­vices exist since 2007. For over 9 years now, we have worked in order to offer ser­vices that are both effi­cient and acces­si­ble, while main­tain­ing a per­son­al touch. Our evo­lu­tion cov­ers many steps and the change in our visu­al iden­ti­ty is one of them: we present to you today the 4th graph­i­cal ver­sion of our platform.
In a few words:
Our graph­ic design: we are keep­ing it sim­ple because we aim at keep­ing our tools intu­itive, and in the same col­or as the pre­vi­ous ver­sion (the famous pink that we are known for).
Our web­site: clear­er and more com­pre­hen­sive, it should enable our users to eas­i­ly dis­tin­guish our var­i­ous host­ing solu­tions. (We now have three, had you noticed? More about that later…)
Your brows­ing expe­ri­ence: it must remain easy and seam­less, putting into light some of our tools that were less vis­i­ble (such as the sta­tus of our ser­vices, or our admin­is­tra­tion trans­lat­ing plat­form).
Administration: this is the heart of our tools, where you man­age and con­trol all your resources. We have done our best not to change your user expe­ri­ence … at least not too much.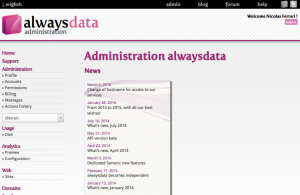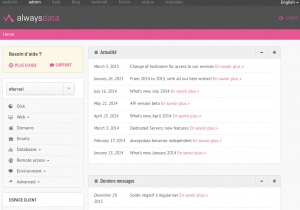 We there­fore hope that you will like our new design just as much as we do. We leave it to you to explore it in detail and pro­vide us with any feed­back that you think would make it even better.
We are here, so do not worry!
The past months have been cru­cial for us. Since we announced almost 2 years ago that we were going solo, new tech­ni­cal chal­lenges have been added to our dai­ly work­load (result­ing in poor com­mu­ni­ca­tion from us, for which we apol­o­gize). But today we can say that we have suc­ceed­ed: qual­i­ty and reli­a­bil­i­ty are con­sis­tent­ly deliv­ered, and in a few weeks the old facil­i­ties will be a thing of the past (today, more than 90% of the servers have already migrat­ed). While speak­ing of qual­i­ty, a major change on all of our servers should soon boost your applications…
So yes, we are here, do not wor­ry. And we have also heard your con­cerns (which warm our hearts nonethe­less): we need to improve our com­mu­ni­ca­tion skills, be more present for you. So this is what we will strive to do bet­ter from now on: our 2016 res­o­lu­tion in a way :)
Again, all our best wish­es for the com­ing year, and most of all: see you very soon!