It is with great joy (and some excitement) that the whole team from Alwaysdata wishes you a wonderful and happy 2016. We hope this year will be full of projects of all kinds, and today we will start by giving you an insight into some of these. As you have no doubt noticed, we have revamped our visual identity for the new year.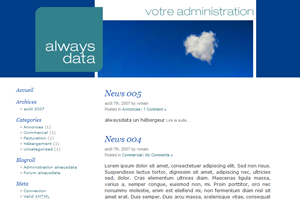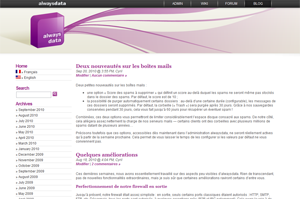 Our hosting services exist since 2007. For over 9 years now, we have worked in order to offer services that are both efficient and accessible, while maintaining a personal touch. Our evolution covers many steps and the change in our visual identity is one of them: we present to you today the 4th graphical version of our platform.
In a few words:
Our graphic design: we are keeping it simple because we aim at keeping our tools intuitive, and in the same color as the previous version (the famous pink that we are known for).
Our website: clearer and more comprehensive, it should enable our users to easily distinguish our various hosting solutions. (We now have three, had you noticed? More about that later…)
Your browsing experience: it must remain easy and seamless, putting into light some of our tools that were less visible (such as the status of our services, or our administration translating platform).
Administration: this is the heart of our tools, where you manage and control all your resources. We have done our best not to change your user experience … at least not too much.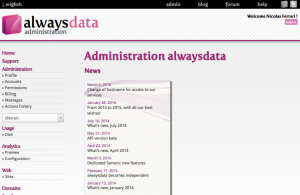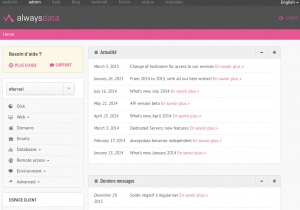 We therefore hope that you will like our new design just as much as we do. We leave it to you to explore it in detail and provide us with any feedback that you think would make it even better.
We are here, so do not worry!
The past months have been crucial for us. Since we announced almost 2 years ago that we were going solo, new technical challenges have been added to our daily workload (resulting in poor communication from us, for which we apologize). But today we can say that we have succeeded: quality and reliability are consistently delivered, and in a few weeks the old facilities will be a thing of the past (today, more than 90% of the servers have already migrated). While speaking of quality, a major change on all of our servers should soon boost your applications…
So yes, we are here, do not worry. And we have also heard your concerns (which warm our hearts nonetheless): we need to improve our communication skills, be more present for you. So this is what we will strive to do better from now on: our 2016 resolution in a way 🙂
Again, all our best wishes for the coming year, and most of all: see you very soon!