…Doc Buster1)!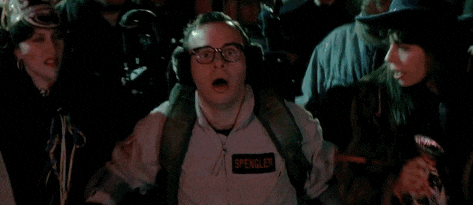 So it's final­ly here, and we did it again: a New Year! We're ready to han­dle all (y)our projects, enjoy life, and improve your business!
I orig­i­nal­ly want­ed to make a joke here based on ASCII char codes but unfor­tu­nate­ly, the 20 hex code cor­re­sponds to a <space>. This would lead to space space… 2020: the year of new projects launched into orbit? Surely that's the best we can wish you for the com­ing 12 months!
For always­da­ta, this year also marks the start of our 15th year, and a real­i­sa­tion of just how far we've come in that time! But guess what, dear part­ners? This is just the beginning!
Brand new documentation!
This is some­thing we've been work­ing on for a while now. During the last edi­tion of the Paris Web Conference, I even gave a new talk about How to Write a Good Documentation: Writing for the Junior Woodchucks' Guidebook[fr].
Our new doc­u­men­ta­tion is on its way right now, but here's a quick pre­view of the new tool, ded­i­cat­ed to our cus­tomers and devel­op­ers, to help you in your dai­ly tasks on the always­da­ta platform.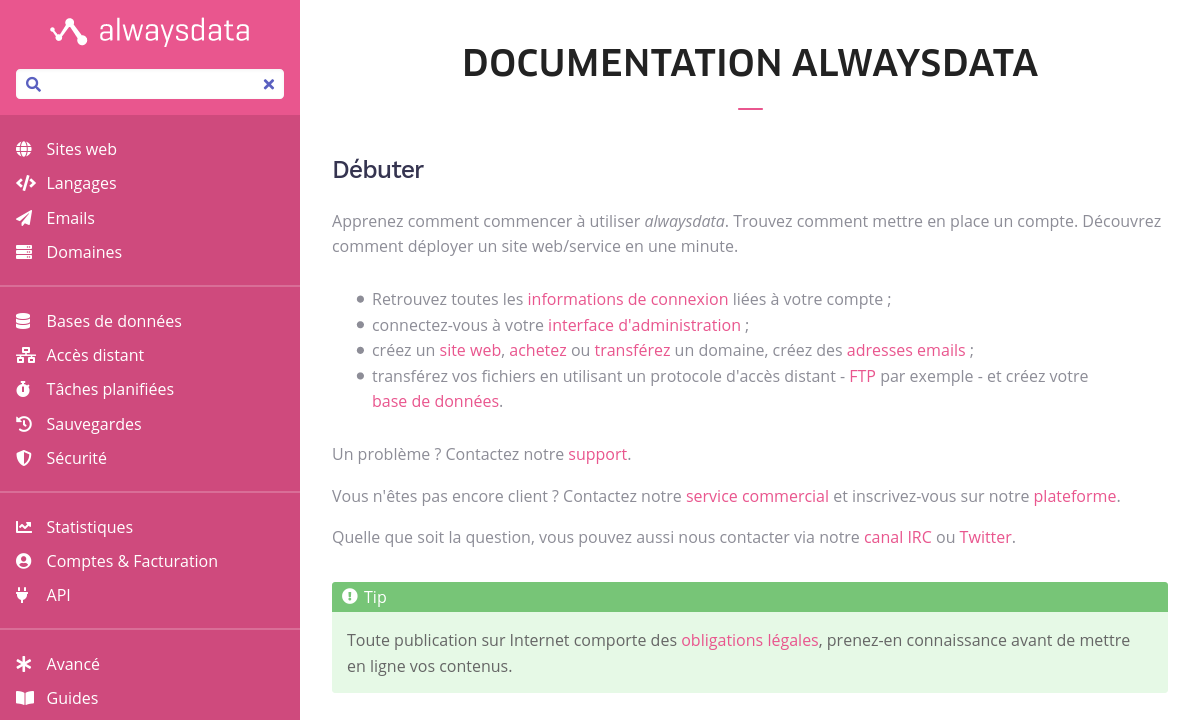 There are some things still to fix, and the English ver­sion to be com­plet­ed, but we're proud of the work we've done so far! We hope this tool will be more com­pre­hen­sive and eas­i­er to main­tain than pre­vi­ous ver­sions and we're also mak­ing a big effort to keep all con­tent avail­able in both English and in French, as more and more of our cus­tomers are hail­ing from all over the world.
The URL will remain the same: http://help.alwaysdata.com. Expected in-orbit date: with­in the next few weeks!!
The Great Migration
As you may know, our plat­form is built on the Debian GNU/Linux dis­tri­b­u­tion. The most recent ver­sion ver­sion, Buster, was orig­i­nal­ly released on July 6th, 2019. It brought a lot of new fea­tures regard­ing secu­ri­ty, per­for­mance, and sta­bil­i­ty so as an essen­tial com­po­nent of our stack, we do have to upgrade our servers to bring you the best pos­si­ble Internet Hosting.
We have already updat­ed the inter­nal parts and com­po­nents of our infra­struc­ture. Over the next few months, we will begin the Great Migration to pro­gres­sive­ly upgrade the host­ing servers. If you're host­ed on Shared plans, you will be noti­fied of the change. If you're on the VPS or Dedicated Servers plans, we will get in touch with you to assist you dur­ing the migra­tion process, and to test your appli­ca­tions before switch­ing them to this new version.
Nevertheless, you don't have to wor­ry about any issues with this migra­tion: our process is tried and test­ed, and the most crit­i­cal parts are all auto­mat­ed. So be ready for the future!
---
Along with these two main changes, there's also a lot of work we con­tin­ue to per­form reg­u­lar­ly on the plat­form, adding new fea­tures and increas­ing its respon­sive­ness. This year will be full of updates big and small, so do keep in touch!
Finally, we wish you all the best for the com­ing year! always­da­ta is still here, thanks to you and your con­fi­dence in our prod­uct. For all of this, a huge thank you from the whole team!