We had deployed on our pro­duc­tion servers a new ver­sion of our HTTP reverse-proxy engine. It embeds a lot of new fea­tures. We cov­er them in this col­lec­tion of blog posts.
Here, we want to intro­duce you to the Web Application Firewall (WAF) that is now built-in our reverse-proxy.
What's a WAF?
All soft­ware have bugs. It's even true for web appli­ca­tions. They may present secu­ri­ty holes, that may com­pro­mise their integri­ty. Attackers may want to get a full-con­trol over the web appli­ca­tion. We call this kind of attack an infec­tion. If they com­pro­mise the ser­vice by itself, the con­se­quences may be dra­mat­ic, from a sim­ple unavail­able web­site to a leak of per­son­al data.
Cybersecurity is a full-time job. By fol­low­ing some good prac­tices, and by using a WAF, you may increase your secu­ri­ty lev­el. Good news! We now embed it direct­ly inside our infra­struc­ture, and using it is as sim­ple as a click.
A Web Application Firewall is a fire­wall that pro­tects your web­site from mali­cious requests. It pars­es the HTTP(s) requests and allows or deny them to access the serv­er. It can block, alert or put in quar­an­tine some of them if it con­sid­ers it as mali­cious. It can also react to many attacks, to lim­it infections.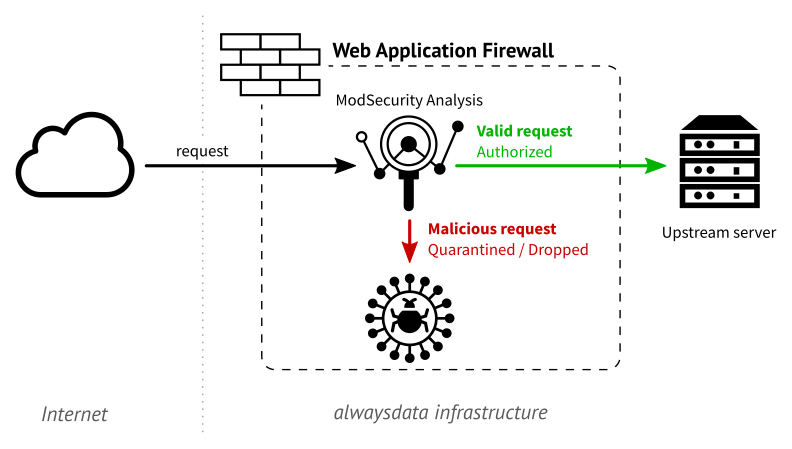 Modsecurity WAF
Instead of devel­op­ing a new solu­tion from scratch, we choose the ModSecurity WAF, devel­oped by Trustwave SpiderLabs. This project has an excel­lent rep­u­ta­tion con­cern­ing secu­ri­ty. It's also an open source project, so we can stick to our pol­i­cy to give you a host­ing plat­form only pow­ered by open source solu­tions. Finally, the ModSecurity com­mu­ni­ty is very active, and it increas­es the way the project evolves day-by-day.
ModSecurity is only a secu­ri­ty engine. It uses some set of rules to ana­lyze a request and mark it as mali­cious or not. We chose to use the open source rule­set from OWASP ModSecurity Core Rule Set (CRS) which offer an excel­lent lev­el of pro­tec­tion for web appli­ca­tions. It also imple­ments the OWASP Top 10 with a shal­low lev­el of false-positive.
Configuring a WAF at alwaysdata
For a high con­ve­nience, the built-in WAF is avail­able for every web­site host­ed at always­da­ta individually.
You find six pro­files with var­i­ous lev­els of protection:
Disabled
Basic

Force strict HTTP protocol
Detect mali­cious bots

Strong
Full

Strong pro­file
Detect attacks for PHP language
Detect attacks by Local File Injection (LFI)
Detect attacks by Remote File Injection (RFI)

WordPress

Full pro­file
A WordPress' spe­cif­ic ruleset

Drupal

Full pro­file
A Drupal's spe­cif­ic ruleset
Please note that acti­vat­ing your WAF may increase the laten­cy time for every HTTP(s) request. This laten­cy (about a few ms) increas­es with the robust­ness of the select­ed pro­file. It's due to the pars­ing time of the request which increas­es with the num­ber of OWASP rules to apply.
To use it, select a pro­tec­tion pro­file in the Sites → Edit → WAF section.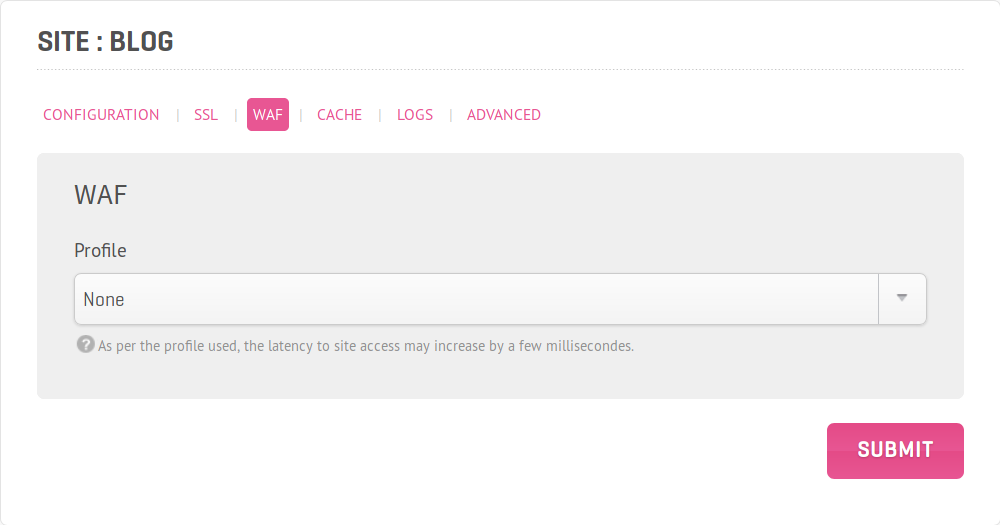 This fea­ture is in a beta state yet.
---
It's our objec­tive to give you a reli­able, robust and safe envi­ron­ment for your host­ing, with­out a mess of com­plex­i­ty. That's why we want to give you a sol­id built-in WAF that you can enable with a sim­ple click.
After secu­ri­ty, per­for­mance! In our next blog post, we intro­duce you to our new HTTP cache and its impact on your web­sites delivery.