First announced for the occa­sion of the New Year, then recent­ly for a beta test peri­od, the offi­cial launch of MongoDB on our shared host­ing plat­form has final­ly arrived! Some infor­ma­tion in order to bet­ter under­stand what it con­sists of and how it works on alwaysdata:
MongoDB?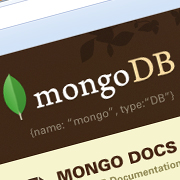 MongoDB is a free tech­nol­o­gy that enables the man­age­ment of data­bas­es (or rather doc­u­ments and col­lec­tions, to take over the par­tic­u­lar terms of MongoDB). Unlike MySQL and PostgreSQL (which we offer equal­ly), MongoDB is not based on a clas­si­cal rela­tion­al data­base mod­el; we speak instead about NoSQL, con­cept which appeared in 2009. The alter­na­tive to SQL is thus sim­pler to use.
MongoDB is there­fore a very recent and rapid­ly evolv­ing tech­nol­o­gy that we proud­ly offer to you, and cer­tain well-known sys­tems (or web­sites) have already tak­en the step: dias­po­ra, foursquare, bit.ly, New York Times, SourceForge, etc..
Operation on alwaysdata
As usu­al, our objec­tives for the set-up of MongoDB were clear: moder­ni­ty and sim­plic­i­ty. To pro­pose MongoDB on a shared envi­ron­ment is not com­mon­place, so we hope that the devel­op­ers will be able to eas­i­ly find their happiness!
The oper­a­tion is strict­ly the same when you han­dle MySQL, PostgreSQL or MongoDB data­bas­es: in your admin­is­tra­tion inter­face, a new menu appears which will allow you to cre­ate MongoDB data­bas­es and users while set­ting their per­mis­sions (no rights, read-only, all rights). The only thing left to do is to con­nect to the serv­er: mongodb.alwaysdata.com.
Warning (cur­rent cus­tomers): you must change the "default" pass­word for your account, since we have ini­tial­ized it with a non-valid pass­word. This oper­a­tion is not nec­es­sary for new accounts.
And as usu­al, if you have any prob­lems or com­ments, do not hes­i­tate to con­tact us with a ticket ;)
Useful links
If you would like to know more about MongoDB, here some inter­est­ing resources: