First announced for the occasion of the New Year, then recently for a beta test period, the official launch of MongoDB on our shared hosting platform has finally arrived! Some information in order to better understand what it consists of and how it works on alwaysdata:
MongoDB?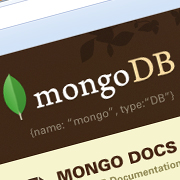 MongoDB is a free technology that enables the management of databases (or rather documents and collections, to take over the particular terms of MongoDB). Unlike MySQL and PostgreSQL (which we offer equally), MongoDB is not based on a classical relational database model; we speak instead about NoSQL, concept which appeared in 2009. The alternative to SQL is thus simpler to use.
MongoDB is therefore a very recent and rapidly evolving technology that we proudly offer to you, and certain well-known systems (or websites) have already taken the step: diaspora, foursquare, bit.ly, New York Times, SourceForge, etc..
Operation on alwaysdata
As usual, our objectives for the set-up of MongoDB were clear: modernity and simplicity. To propose MongoDB on a shared environment is not commonplace, so we hope that the developers will be able to easily find their happiness!
The operation is strictly the same when you handle MySQL, PostgreSQL or MongoDB databases: in your administration interface, a new menu appears which will allow you to create MongoDB databases and users while setting their permissions (no rights, read-only, all rights). The only thing left to do is to connect to the server: mongodb.alwaysdata.com.
Warning (current customers): you must change the "default" password for your account, since we have initialized it with a non-valid password. This operation is not necessary for new accounts.
And as usual, if you have any problems or comments, do not hesitate to contact us with a ticket ;)
Useful links
If you would like to know more about MongoDB, here some interesting resources: